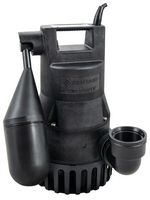 The U2KS is a versatile centrifugal submersible pump for stationary and portable use. EIP technology for better solid handling, integrated flushing device for reducing deposits and optional low level pumping down to 5 mm are only a few of the innovative features that set this pump apart.
The pump removes rain water, lightly polluted water and all kinds of grey water like waste water from dishwashers, showers or washing machines.
In stationary use the U2KS removes the water from drains in cellars, laundries or storerooms and serves as a flood protection. If the sump or tank runs dry temporarily, the pump can be vented by providing a drill-hole in the spiral housing. 
Downloads
Features
Low Level Pumping with detached strainer
Emerged Operation due to cooling Jacket
Moisture Sealed Inlet Cable