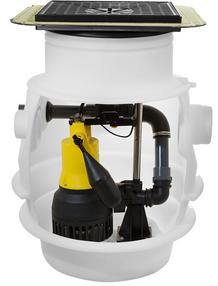 The Baufix 100 is an underfloor sump, which provides good storage capacity. Without a great deal of construction work, it disposes of effluent from laundries, storage or cellar areas below the local backup level. The application as collecting tank for sewage is not permitted.

The pressure resistant plastic tank is placed without formwork into the concrete base and forms a collecting tank for underfloor pipework. Installation in areas subject to ground water is not permitted.
Downloads
Info
Max Solids Handling:
30mm
Discharge Size:
1 1/4" or 1 1/2"
Power Supply:
230 or 415 volt
Features
Odour Trap
Floor drain
70 litre capacity