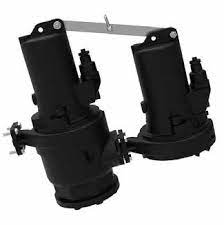 Centrifugal submersible sewage pumps fitted with the MultiCut cutting system are used as stationary appliances in pressurised drainage systems for discharge in sparsely populated areas or of detached houses. They are suitable for pumping domestic wastewater with the usual additions (as specified in German standard DIN 1986, Part 3).
In the MultiCut tandem systems (TAN), two MultiCut pumps are connected to one unit in order to achieve a higher head.
Downloads
Info
Max Solids Handling:
Macerator
Discharge Size:
1 1/4" 1 1/2"
Features
Cuttin rotor with stirring effect
External adjustable cutting mechanism
Installed Motor Protection